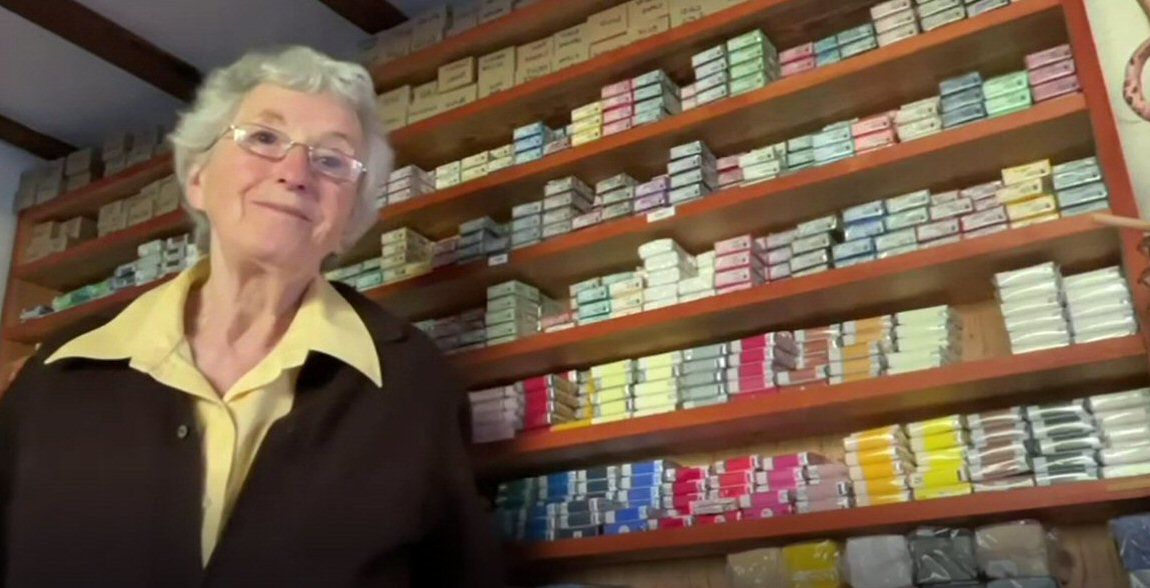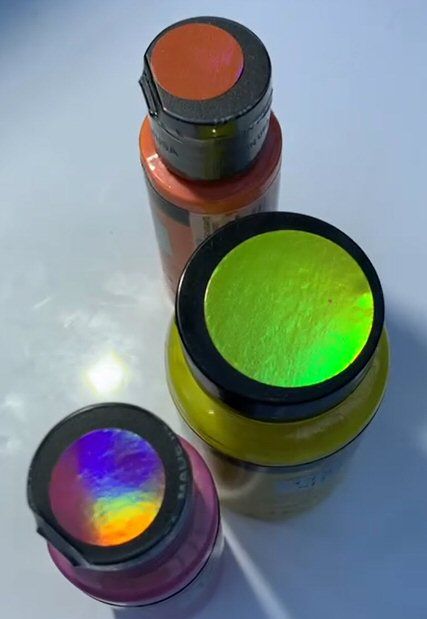 Are you even aware that this fascinating colour shift paint exists? You paint it on your piece and the colour changes according to which direction you look at it!
July 2022
I constantly look for inspiration and it is amazing where it sometimes comes from. Looking at the work of this artist I realised that one can create from just about anything if one is, as polymer clay people are, inventive and creative. This piece is sculpted into the lead of a pencil (he must have amazing eyesight!) and my initial thought is 'what else is there one could make into a hollow piece (clay of course) into which one could put interesting objects or created shapes......? The possibilities are endless!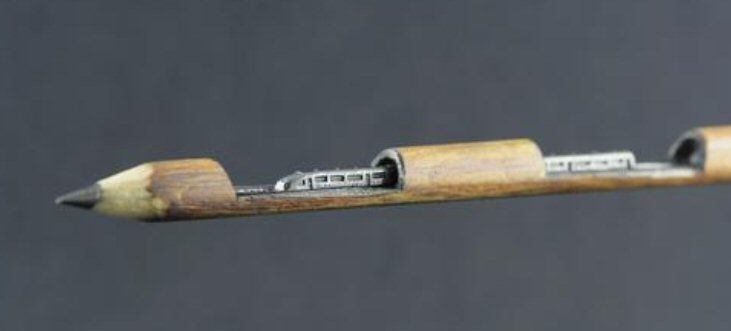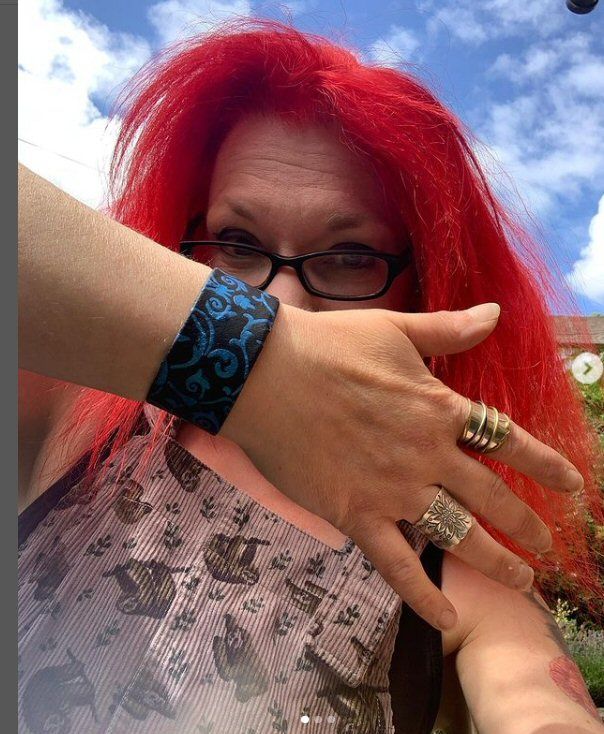 This bracelet is made with a simple cut strip of leather effect. She has then used a stencil for the design putting mica powder over the stencil to get the pattern. What is so great is that because Leather Effect is flexible after it is cured it can be bent into any shape you wish.
July 2022
Loretta Lam is an exceptional artist with an insight into colour blending that is second to none. I have been to more than one of her workshops. I would even recommend, if you are looking for a valuable learning experience, that you enrol on one of her workshops. Meanwhile look at her website to see how she so cleverly combines colours.
This is her website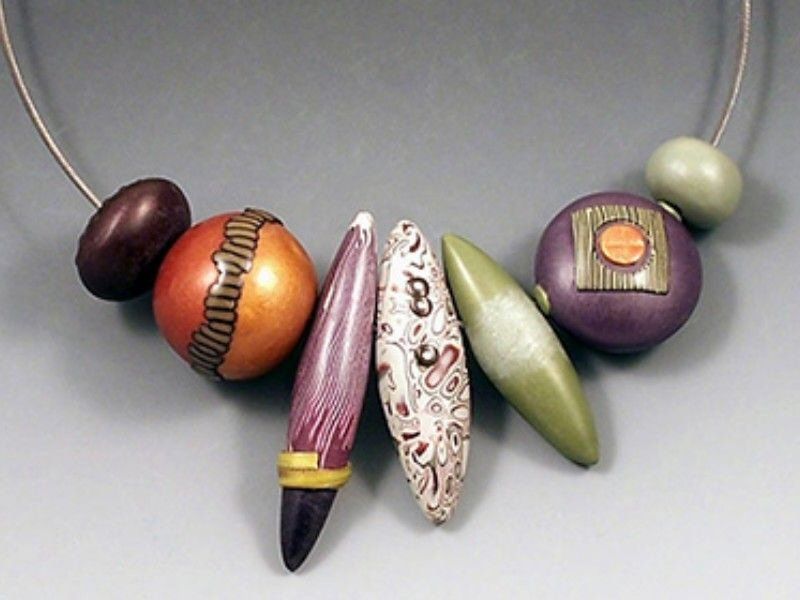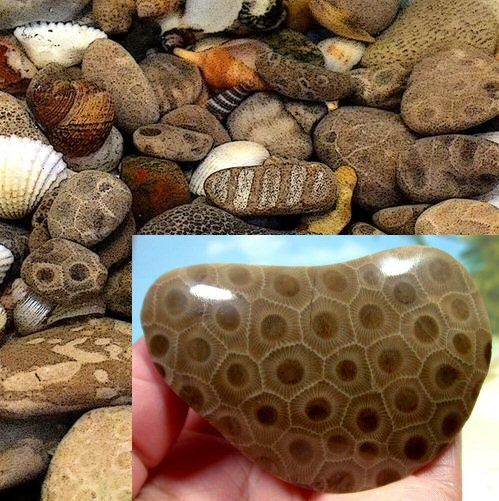 This stone is a fossilized coral and there are very many of them in Michigan as you will see on the image on the left. This one is polished and many US jewelers use them for their decorative pieces. They reminded me of the work of Melanie West, as you wil see with the picture on the right uses natural formation in her designs.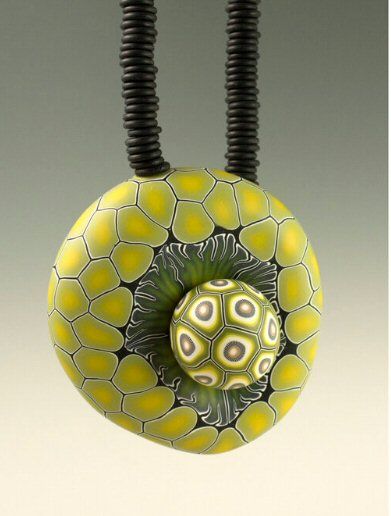 Judy Youssef is a particularly creative polymer clay artist. She has shown us here what is possible when one simply takes coloured markers and creates designs on ones white polymer clay. To great effect. I quote Judy:
"I do a short pre-bake on the white blanks (20 minutes), draw the design and then return them to the oven for a 45 minute full cure, covered with a paper "tent" to reduce any chance of scorching. I haven't found it necessary to varnish over the paint as it appears to be strong enough without."
I will add that I cut the blanks with deli paper on top to create a nice bevelled edge.
July 2022
We have got 2oz blocks at long last - lots of them. Are you going to be preparing for Christmas? Now's your chance to get ahead of the game with some bling!
July 2022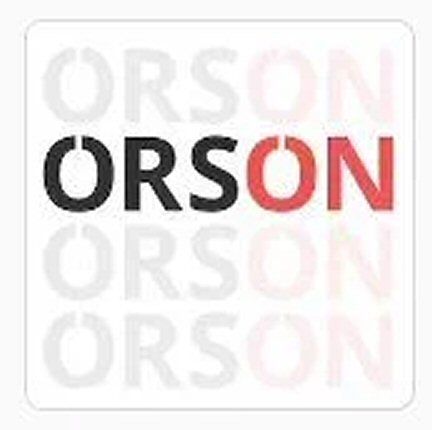 We are excited to announce that we are now selling digital tutorials for Nik Orson - these are particularly valuable to UK customers as the price here is considerably cheaper than the same tutorials that are being sold on Etsy. The reason? Clayaround are not charging Nik the ridiculous fees for hosting her tutorials. This is especially for Clayaround's customers.
July 2022
Sculpture with a difference
From an expert in sculpture I am told this is not an easy sculpture to make. However I am quite sure if you are interested you could make it or something similar. You can search on YouTube for the stream by 'Naldz Hobby Side' and you will find this and much more! A fun challenge!
July 2022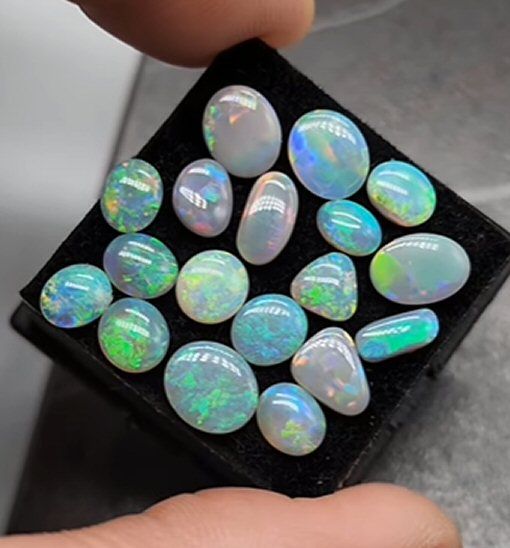 Faux opals can be made easily!
Use a mixture of Premo colours: pearl, translucent white and/or translucent, plus pearl. For colour use mica powder or embossing powder and/or glitter. Mix different colours of your choice in the clay. Chop the pieces as if you were finely chopping vegetables and squeeze together the colours that you like into one 'pile'. You can add some translucent white liquid clay to bind them. Make them into the size you want, maybe add a coating of thinly rolled opal clay and shape into the shape you want.
You can find all the things you need on the clayaround website
Premo 2oz Mica powders embossing powder Liquid clay
July 2022
Why would I want to put a picture of Ragged Daisies, appart from the fact they are stunningly beautiful when in full blook, and exceptionally unusual.
Well they also show just how bright and beautiful are whites and working with white polymer clay is also a worthwhile activity.
Before you use your pasta machine run a piece of old scrap clay through it to clean the rollers and/or even run a baby wipe through it to clean the rollers! Wash your hands if you have been using colours. Keep your pets out of the way! And put your pieces on clean tiles or clean pieces of parchment paper.
You can get wonderful results by curing some white clay, cutting some interesting shapens and then drawing on them with coloured markers.
White Premo White Kato White Cernit Platinum Pardo
ideal markers
July 2022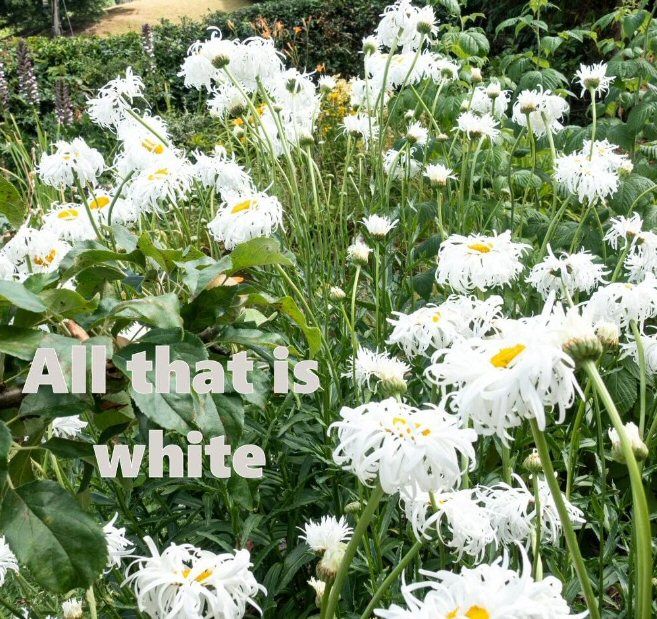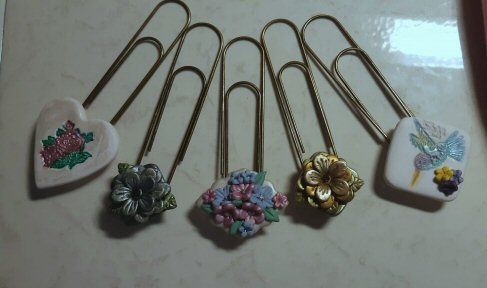 Fridge magnets with a difference. Make your fridge magnets using magnets and polymer clay designs, but add large paper clips so that they hold messages or documents. A utilitarian decorative idea.
June 2022
Your path to endless possibilities. A large variety of tools available to help you with creating what ever you want to create with your polymer clay!
tools
June 2022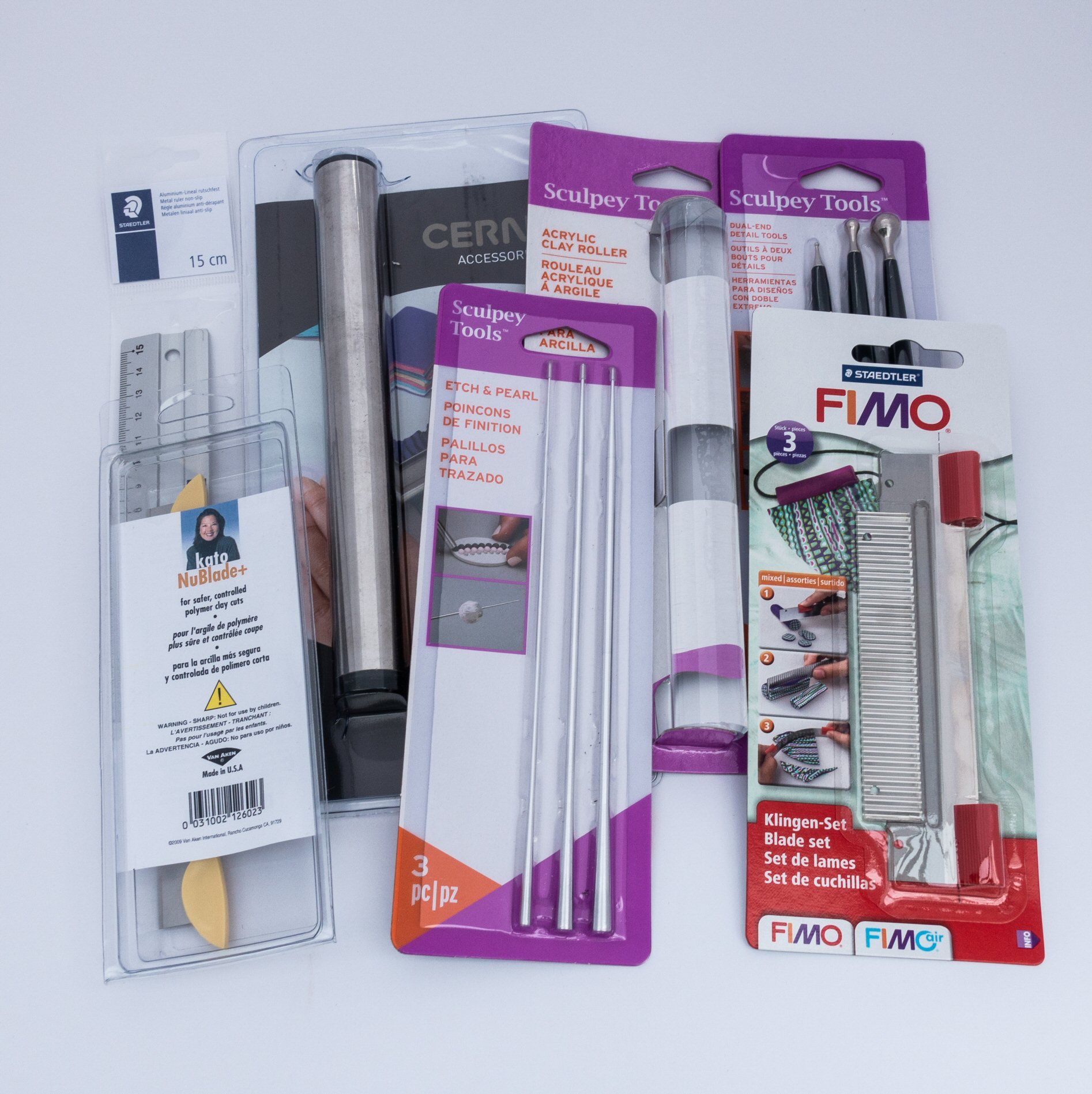 We have been learning about card making and watching the scrapbookers and see that they use many of the useful products that we already have available. So we are venturing into pastures new and very soon will have a plethera of new products with mixed media or card making in mind.
Watch our website for positive change.
June 2022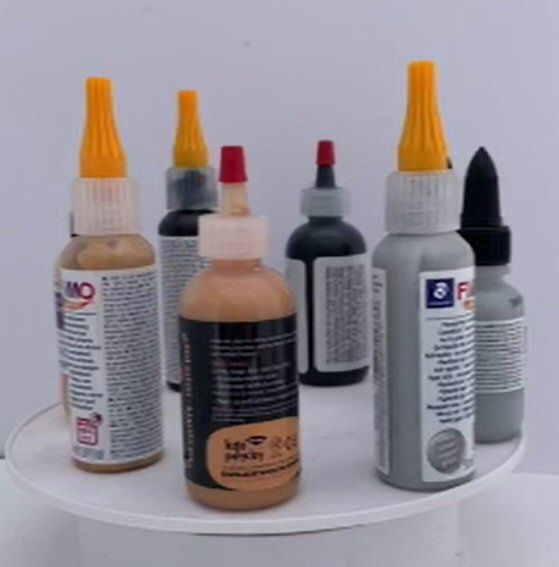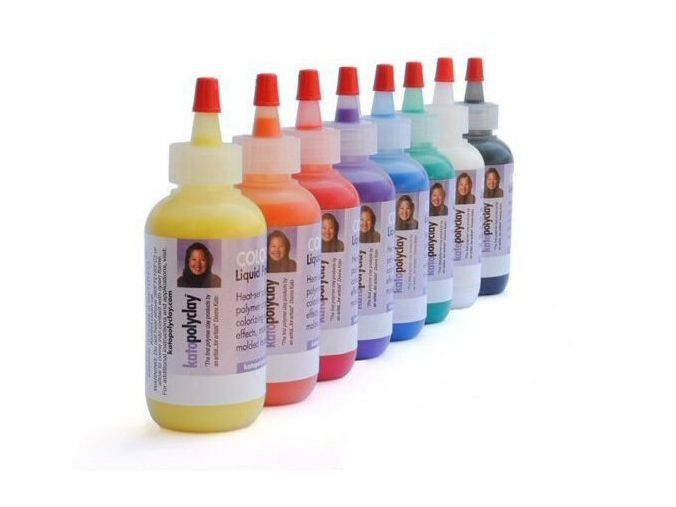 There are so many liquid clays now and a new one has recently been added: Gold Mica by Kato. Kato also have a full range of coloured liquid clays that lend themselves to fascinating possibilities.
Helen Breil's texture stamps are particularly high quality and very inventive designs - often multiple design in one sheet. She has many examples of the results of the textures on her website if you look for them (just google for 'Helen Breil Designs' as her website is fascinating) Meanwhile look at the vast variety of desings that are available on our website
Helen Breil textures
June 2022